Chinese Journal of Arteriosclerosis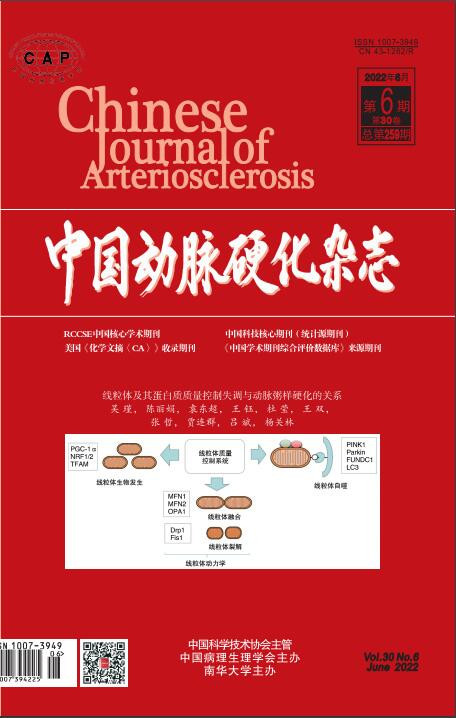 Country

China

Publisher

Editorial Office of Chinese Journal of Arteriosclerosis

ElectronicLinks

http://www.dmzzbjb.net/zgdmyhzzen/home

Editor-in-chief

JIANG Zhisheng

E-mail

zgdmyhzz2022@126.com

Abbreviation

Vernacular Journal Title

中国动脉硬化杂志

ISSN

1007-3949

EISSN

Start Year

1993

Description

Chinese Journal of Arteriosclerosis (CN 43-1262/R, ISSN 1007-3949) is a professional academic journal governed by China Association for Science and Technology and sponsored by ChineseAssociation of Pathophysiology and University of South China. The publishing scope of the journal includes the prevention and treatment of arteriosclerotic diseases (such as hyperlipidemia, coronary artery disease, ischemic cerebrovascular disease, hypertension, arteriosclerosis and other ischemic diseases) in traditional Chinese medicine, preventive medicine, basic medicine, clinical medicine, pharmacology and special medicine. The columns include original research article (including epidemiological research, experimental research, clinical research and methodological research), review, diagnosis and treatment experience, case report, lectures, etc. The aim of the journal is to report cutting-edge theories, viewpoints, therapies and new drugs for the prevention and treatment of arteriosclerotic diseases, introduce new experience and knowledge of prevention and control, facilitate academic research and promote academic exchanges at home and abroad, and promote the improvement of human health. Since its inception, the journal has been acclaimed by authors and readers for its rigorous standard, rich content, short publication cycle and strong readability. The journal's aimed readers are researchers engaged in arteriosclerosis, medical personnel, teachers and students in colleges and community medical working staff.Chinese Journal of Arteriosclerosis is an open access journal. All article published could be read and downloaded free of charge from this website.
Chinese Journal of Arteriosclerosis:
1993 (v1, n1) to Present
ISSN: 1007-3949
No data yet.