Clinical and Experimental Emergency Medicine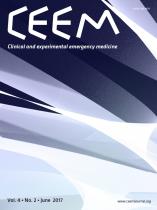 Country

Republic of Korea

Publisher

Korean Society of Emergency Medicine

ElectronicLinks

http://ceemjournal.org/

Editor-in-chief

Adam J. Singer

E-mail

office@ceemjournal.org

Abbreviation

Clin Exp Emerg Med

Vernacular Journal Title

ISSN

2383-4625

EISSN

2383-4625

Year Approved

Current Indexing Status

Currently Indexed

Start Year

2014

Description

It launched in 2014, published quarterly on the last day of March, June, September, and December. This journal focuses on both basic and clinical research of emergency medicine including pathophysiology, epidemiology, diagnosis, prognosis, treatment, and simulation. It is the member journal of the Korean Society of Emergency Medicine.
Clinical and Experimental Emergency Medicine:
2014 (v1, n1) to Present
ISSN: 2383-4625; EISSN: 2383-4625