Journal of Dental Hygiene Science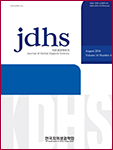 Country

Republic of Korea

Publisher

The Korean Society of Dental Hygiene Science

ElectronicLinks

http://www.jkdhs.org

Editor-in-chief

Ji-Hyoung Han

E-mail

office@jkdhs.org

Abbreviation

J Dent Hyg Sci

Vernacular Journal Title

치위생과학회지

ISSN

1598-4478

EISSN

2233-7679

Year Approved

Current Indexing Status

Currently Indexed

Start Year

2001

Description

The official title of the journal is 'Journal of Dental Hygiene Science' and the abbreviated title is 'J Dent Hyg Sci'. It was launched in 2001, and accepts original research articles, reviews, short communications, case reports in the fields of Dental Hygiene. This journal is indexed in the KoreaMed, Korea Citation Index (KCI), KoreaScience, and Google Scholar. This journal was supported by the Korean Federation of Science and Technology Societies (KOFST) Grant funded by the Korean Government.
Journal of Dental Hygiene Science:
2001 (v1, n1) to Present
ISSN: 1598-4478; EISSN: 2233-7679