Organ Transplantation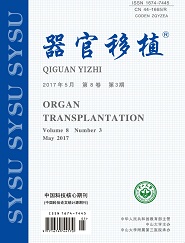 Country

China

Publisher

Editorial Department of Organ Transplantation, Periodical Center of the Third Affiliated Hospital of Sun Yat-sen University

ElectronicLinks

http://www.organtranspl.com

Editor-in-chief

Chen Guihua

E-mail

organtranspl@163.com

Abbreviation

Organ Transpl

Vernacular Journal Title

器官移植

ISSN

1674-7445

EISSN

Start Year

2010

Description

Organ Transplantation is an international academic journal with the Ministry of Education of the People's Republic of China as the responsible institution. It is sponsored by Sun Yat-sen University, and co-hosted by the Third Affiliated Hospital of Sun Yat-sen University. Organ Transplantation serves a wide scope of readership including physicians, nurses, fundamental researchers and medical students in the field of organ transplantation and relevant disciplines, such as the Department of Transplantation Surgery, Internal Medicine, Anesthesiology and Intensive Care Unit ,etc. Organ Transplantation primarily reports novel advancement in the basic and clinical research in the field of organ transplantation at home and abroad, serving as a platform to promote academic exchanges in organ transplantation among global researchers. Up to now, four academic journals related to organ transplantation have been established in China. Compared with its counterparts, Organ Transplantation places the submission quality on the top priority. It includes Guideline & Consensus, Editorial, Clinical research, Experimental research and Review, which mainly cover liver, renal, lung and cardiac transplantation, etc. A majority of submissions originate from large transplantation centers and institutions throughout China. Special issues are designed and published annually based upon the research highlights, which gains widespread recognition from global readers. According to the latest Chinese S&T Journal Citation Reports, the impact factor of Organ Transplantation reaches 0.788, ranking 1st among all organ transplantation-related academic journals in China. In 2013, the Ministry of Health of the People's Republic of China promulgated legal regulations that all transplanted organs should be sourced from organ donation from voluntary civilian organ donors. The legitimacy of organ transplantation in China has been gradually supported by the international community. The quantity of organ transplantation surgeries performed in China is one of the largest around the globe. In recent years, both fundamental research (such as transplantation immunity and xenotransplantation) and clinical studies (like organ transplantation from living unrelated donors and donation after cardiac death) have been intensively investigated in China. Organ Transplantation strives to demonstrate these basic and clinical accomplishments of Chinese scholars to the outside world.
Organ Transplantation:
2010 (v1, n1) to Present
ISSN: 1674-7445