Hip & Pelvis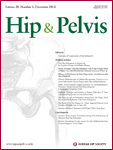 Country

Republic of Korea

Publisher

Korean Hip Society

ElectronicLinks

http://synapse.koreamed.org/LinkX.php?code=0147JKHS

Editor-in-chief

Yoon Je Cho

E-mail

Abbreviation

Hip & Pelvis

Vernacular Journal Title

대한고관절학회지

ISSN

2287-3260

EISSN

2287-3279

Year Approved

Current Indexing Status

Currently Indexed

Start Year

1989

Description

Aims and Scope Hip & Pelvis, the official journal of The Korean Hip Society is a national, peerreviewed journal. Abbreviated title is 'Hip Pelvis'. It was launched with the name of 'The Journal of the Korean Hip Society' in 1989. Its name was changed in June, 2012. It covers the entire field of clinical and basic research related to hip joint and adjacent musculoskeletal structures. The research should have originality. It is a quarterly journal published at the last day in March, June, September and December.
Hip & Pelvis:
1989 to Present
ISSN: 2287-3260; EISSN: 2287-3279