Clinical Nutrition Research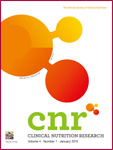 Country

Republic of Korea

Publisher

Korean Society of Clinical Nutrition

ElectronicLinks

http://synapse.koreamed.org/LinkX.php?code=0214CNR

Editor-in-chief

Mi-Kyung Sung

E-mail

Abbreviation

Clin Nutr Res

Vernacular Journal Title

ISSN

2287-3732

EISSN

2287-3740

Start Year

2012

Description

Clinical Nutrition Research (CNR) was launched in 2012 as the official journal of the Korean Society of Clinical Nutrition (KSCN), strives for academic advancement by stimulating research activities in the clinical nutrition research field. The CNR is published quarterly on the last day of January, April, July, and October, one volume per year. The CNR aims to contribute to human health and nutrition by exerting education effect, which can be practically applied in clinical nutrition care.
Clinical Nutrition Research:
2012 to Present
ISSN: 2287-3732; EISSN: 2287-3740