Clinical and Molecular Hepatology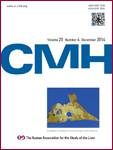 Country

Republic of Korea

Publisher

Korean Association for the Study of the Liver

ElectronicLinks

http://synapse.koreamed.org/LinkX.php?code=2005CMH

Editor-in-chief

Jin Wook Kim

E-mail

Abbreviation

Clin Mol Hepatol

Vernacular Journal Title

ISSN

2287-2728

EISSN

2287-285X

Start Year

Description

Clinical and Molecular Hepatology(CMH), an official journal of The Korean Association for the Study of the Liver, is issued quarterly and published in English. The aim of the journal is to provide a forum for medical doctors and basic scientists working in the field of hepatology. The journal covers basic and clinical researches on molecular and cell biology, pathophysiology, epidemiology, diagnosis, and treatment of the various diseases of the liver and biliary tract, with special attention to more common liver diseases of the Asian-Pacific region such as B viral hepatitis.
Clinical and Molecular Hepatology:
ISSN: 2287-2728; EISSN: 2287-285X