Blood Research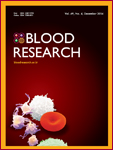 Country

Republic of Korea

Publisher

Korean Society of Hematology; Korean Society of Blood and Marrow Transplantation; Korean Society of Pediatric Hematology-Oncology; Korean Society on Thrombosis and Hemostasis

ElectronicLinks

http://synapse.koreamed.org/LinkX.php?code=3072BR

Editor-in-chief

Seog-Woon Kwon

E-mail

journal@bloodresearch.or.kr

Abbreviation

Blood Res

Vernacular Journal Title

ISSN

2287-979X

EISSN

2288-0011

Start Year

1969

Description

Blood Research is a peer-reviewed open-access journal and delivers important clinical, translational and basic research results in hematology to the readers worldwide. The research areas covered by Blood Research include hematopoiesis, stem cell biology, stem cell transplantation, thrombosis, hemostasis, hematologic malignancy, pediatric hematology, laboratory hematology, immunohematology, transfusion medicine, immunology, and other hematology-related fields. Blood Research publishes Original Articles, Review Articles, Editorials, Perspectives, Letters to the Editor, and Images of Hematology. It is published online (http://bloodresearch.or.kr) and in print quarterly (March 31, June 30, September 30, and December 31). Any physicians or researchers throughout the world can submit a manuscript written in English.
Blood Research:
1969 to Present
ISSN: 2287-979X; EISSN: 2288-0011