Kidney Research and Clinical Practice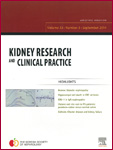 Country

Republic of Korea

Publisher

Korean Society of Nephrology

ElectronicLinks

http://www.krcp-ksn.com/

Editor-in-chief

Gheun-Ho Kim

E-mail

Abbreviation

Kidney Res Clin Pract

Vernacular Journal Title

ISSN

2211-9132

EISSN

2211-9140

Year Approved

Current Indexing Status

Currently Indexed

Start Year

1983

Description

Kidney Research and Clinical Practice (formerly The Korean Journal of Nephrology), the official journal of the Korean Society of Nephrology, is an international, peer-reviewed journal published in English. To provide a venue for dissemination of knowledge and discussion of topics related to basic renal science and clinical practice, the journal considers articles on all aspects of clinical nephrology and hypertension, as well as related molecular genetics, anatomy, pathology, physiology, pharmacology, and immunology. In particular, the journal focuses on translational renal research that helps bridge laboratory discovery with the diagnosis and treatment of human kidney disease. Authors are encouraged to submit reports on topics in basic science with possible clinical applicability and papers on the pathophysiological basis of disease processes of the kidney. Apart from high-quality original research, the journal publishes invited reviews on up-to-date topics and case reports of special interest. There is one volume and 4 issues per year beginning in March.
Kidney Research and Clinical Practice:
1983 to Present
ISSN: 2211-9132; EISSN: 2211-9140