Annals of Clinical Microbiology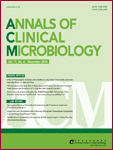 Country

Republic of Korea

Publisher

Korean Society of Clinical Microbiology

ElectronicLinks

http://koreamed.org/JournalVolume.php?id=1105

Editor-in-chief

Yong, Dongeun

E-mail

kscm.office@gmail.com

Abbreviation

Ann Clin Microbiol

Vernacular Journal Title

대한임상미생물학회지

ISSN

2288-0585

EISSN

2288-6850

Year Approved

Current Indexing Status

Currently Indexed

Start Year

1998

Description

The Annals of Laboratory Medicine is devoted to the communication of new knowledge concerning the microbiological aspects of human and zoonotic infections, especially their etiological agents and diagnosis. The scope of this publication is confined to the isolation, identification, and epidemiology of infecting microorganisms, including bacteria, viruses, fungi, and parasites. Determining the in vitro antimicrobial susceptibility are also included.
Annals of Clinical Microbiology:
1998 to Present
ISSN: 2288-0585; EISSN: 2288-6850