Clinical and Experimental Vaccine Research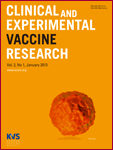 Country

Republic of Korea

Publisher

The Korean Vaccine Society

ElectronicLinks

http://synapse.koreamed.org/LinkX.php?code=0209CEVR

Editor-in-chief

Chong-Woo Bae

E-mail

Abbreviation

Clin Exp Vaccine Res

Vernacular Journal Title

ISSN

2287-3651

EISSN

2287-366X

Year Approved

Current Indexing Status

Currently Indexed

Start Year

2012

Description

Clin Exp Vaccine Res, the official English journal of the Korean Vaccine Society, is an international, peer reviewed, and open-access journal. It covers all areas related to vaccines and vaccination. Clin Exp Vaccine Res publishes editorials, review articles, special articles, original articles, case reports, brief communications, and correspondences covering a wide range of clinical and experimental subjects including vaccines and vaccination for human and animals against infectious diseases caused by viruses, bacteria, parasites and tumor.
Clinical and Experimental Vaccine Research:
2012 to Present
ISSN: 2287-3651; EISSN: 2287-366X