Clinical and Experimental Vaccine Research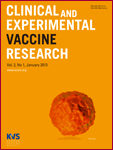 Publishing Place/Institue

Republic of Korea

Publisher

The Korean Vaccine Society

ElectronicLinks

http://synapse.koreamed.org/LinkX.php?code=0209CEVR

Editor-in-chief

Chong-Woo Bae

E-mail

Abbreviation

Clin Exp Vaccine Res

Vernacular Journal Title

ISSN

2287-3651

EISSN

2287-366X

Start Year

2012

Description

Clin Exp Vaccine Res, the official English journal of the Korean Vaccine Society, is an international, peer reviewed, and open-access journal. It covers all areas related to vaccines and vaccination. Clin Exp Vaccine Res publishes editorials, review articles, special articles, original articles, case reports, brief communications, and correspondences covering a wide range of clinical and experimental subjects including vaccines and vaccination for human and animals against infectious diseases caused by viruses, bacteria, parasites and tumor.
Clinical and Experimental Vaccine Research:
2012 to Present
ISSN: 2287-3651; EISSN: 2287-366X