Korean Journal of Women Health Nursing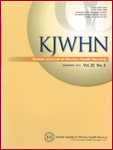 Country

Republic of Korea

Publisher

Korean Society of Women Health Nursing

ElectronicLinks

http://e-sciencecentral.org/journals/107/

Editor-in-chief

Ahn, SukHee

E-mail

ahnsukhee@gmail.com

Abbreviation

Korean J Women Health Nurs

Vernacular Journal Title

ISSN

2287-1640

EISSN

2093-7695

Start Year

1995

Description

The Korean Journal of Women Health Nursing is the primary source of information for meeting the challenges of providing optimum healthcare for women. This authoritative peer-reviewed journal publishes the latest clinical and research papers on health issues that affect women throughout their lifespan. The Journal is the core resource for cutting-edge advancements and clinical applications of new nursing practice, therapeutic protocols for the management of health problems in women, and innovative research in gender-based culture that impacts treatment and nursing care.
Korean Journal of Women Health Nursing:
1995 to Present
ISSN: 2287-1640; EISSN: 2093-7695