ASEAN Journal of Psychiatry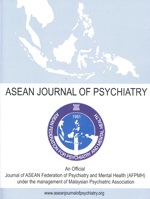 Country

Malaysia

Publisher

ElectronicLinks

http://www.aseanjournalofpsychiatry.org

Editor-in-chief

Hatta Sidi

E-mail

hattasidi@hotmail.com

Abbreviation

ASEAN Journal of Psychiatry

Vernacular Journal Title

ISSN

2231-7805

EISSN

2231-7791

Year Approved

Current Indexing Status

Currently Indexed

Start Year

2007

Description

This is an open access online peer reviewed journal from the ASEAN region. An average of 14 articles and undersgoes a review process by at least two independent reviewers from the specialised fields. Most articles are original . Others include editorials, reviews, ca se reports, education, coutnry reports, book reviews, opinions and special tribute. Editorial and advisory boards consist of members from Malaysia, Asia and other parts of the world.
ASEAN Journal of Psychiatry:
2007 to Present
ISSN: 2231-7805; EISSN: 2231-7791