Korean Journal of Audiology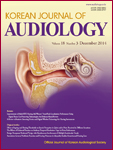 Country

Republic of Korea

Publisher

The Korean Audiological Society

ElectronicLinks

http://www.ejao.org/

Editor-in-chief

Kyoung-Ho Park

E-mail

kjorl@unitel.co.kr

Abbreviation

Korean J Audiol

Vernacular Journal Title

ISSN

2092-9862

EISSN

2093-3797

Start Year

Description

First of all, it is a great pleasure and honor to greet all readers of Journal of Audiology & Otology as a President of the Korean Audiological Society, and I would like to share the pleasure with all the members of the society on the establishment of the official web-site of Korean Journal of Audiology. Our society was established in 1966 and grown up as an important group for studying audiology and otology in Korea. And the first official journal was published on September 1997 when the Prof. Soon Jae Whang was the president of the society. Past presidents and editors have put tremendous efforts to make this journal as one of the major domestic journals in audiology and otology fields.
Korean Journal of Audiology:
ISSN: 2092-9862; EISSN: 2093-3797