Annals of Rehabilitation Medicine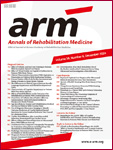 Country

Republic of Korea

Publisher

Korean Academy of Rehabilitation Medicine

ElectronicLinks

http://www.e-arm.org/

Editor-in-chief

Moon Suk Bang

E-mail

edit@e-arm.org

Abbreviation

Ann Rehabil Med

Vernacular Journal Title

ISSN

2234-0645

EISSN

2234-0653

Year Approved

Current Indexing Status

Currently Indexed

Start Year

Description

Annals of Rehabilitation Medicine aims to share up-to-date knowledge dedicated to the advancement of care and to enhance the function and quality of life of persons with various disabilities and chronic illnesses. Its scope includes all aspects of physical medicine and rehabilitation including clinical practice, experimental and applied research, and education. Research areas covered by this journal include rehabilitation of brain disorders, rehabilitation of spinal cord injury, electro-diagnosis, pain, pediatric rehabilitation, geriatric rehabilitation, cardiopulmonary rehabilitation, sports and musculoskeletal rehabilitation, cancer rehabilitation, cognitive rehabilitation, robotic rehabilitation, neuro-modulation, neuroimaging, orthotics & prosthetics, physical modalities, clinical trials, quality of life issues, and basic researches and other emerging fields in rehabilitation medicine.
Annals of Rehabilitation Medicine:
ISSN: 2234-0645; EISSN: 2234-0653