Journal of Gastric Cancer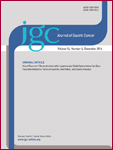 Country

Republic of Korea

Publisher

Korean Gastric Cancer Association

ElectronicLinks

http://www.jgc-online.org/

Editor-in-chief

Sang-Uk Han

E-mail

hansu@ajou.ac.kr

Abbreviation

J Gastric Cancer

Vernacular Journal Title

ISSN

2093-582X

EISSN

2093-5641

Year Approved

Current Indexing Status

Currently Indexed

Start Year

2001

Description

The Journal of Gastric Cancer (J Gastric Cancer) is an international peer-reviewed journal. Each issue carries high quality clinical and translational researches on gastric neoplasms. Editorial Board of J Gastric Cancer publishes original articles on pathophysiology, molecular oncology, diagnosis, treatment, and prevention of gastric cancer as well as articles on dietary control and improving the quality of life for gastric cancer patients.
Journal of Gastric Cancer:
2001 to Present
ISSN: 2093-582X; EISSN: 2093-5641