Anatomy & Cell Biology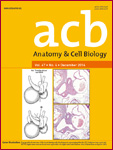 Country

Republic of Korea

Publisher

Korean Association of Anatomists

ElectronicLinks

http://acbjournal.org/

Editor-in-chief

Park, In-Sun

E-mail

sunpark@inha.ac.kr

Abbreviation

Anat Cell Biol

Vernacular Journal Title

대한해부학회지

ISSN

2093-3665

EISSN

2093-3673

Year Approved

Current Indexing Status

Currently Indexed

Start Year

Description

Anatomy & Cell Biology (ACB, pISSN 2093-3665/eISSN 2093-3673) is an international forum for multi-perspective discussion of all fields of anatomy, particularly the field of cell biology based on anatomy. The journal publishes papers from basic to applied fields, and covers studies of all levels of biological organizations in human and animal models. Studies with an integrative perspective of anatomical structures at several levels of organization from molecules to living organisms are particularly welcome.
Anatomy & Cell Biology:
ISSN: 2093-3665; EISSN: 2093-3673