Mycobiology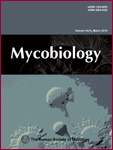 Country

Republic of Korea

Publisher

The Korean Society of Mycology

ElectronicLinks

http://www.mycobiology.or.kr/

Editor-in-chief

Bahn, Yong-Sun

E-mail

ksm@mycology.or.kr

Abbreviation

Mycobiology

Vernacular Journal Title

ISSN

1229-8093

EISSN

2092-9323

Year Approved

Current Indexing Status

Currently Indexed

Start Year

Description

Mycobiology is an international journal devoted to the publication of fundamental and applied investigations on all aspects of mycology and their traditional allies. It is published quarterly and is the official publication of the Korean Society of Mycology. Mycobiology publishes reports of basic research on fungi and fungus-like organisms, including yeasts, filamentous fungi, lichen fungi, oomycetes, moulds, and mushroom. Topics also include molecular and cellular biology, biochemistry, metabolism, developmental biology, environmental mycology, evolution, ecology, taxonomy and systematics, genetics/genomics, fungal pathogen and disease control, physiology, and industrial biotechnology using fungi.
Mycobiology:
ISSN: 1229-8093; EISSN: 2092-9323