Korean Journal of Stroke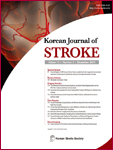 Country

Republic of Korea

Publisher

Korean Stroke Society

ElectronicLinks

http://koreamed.org/JournalVolume.php?id=1183

Editor-in-chief

Jong S. Kim

E-mail

editor@j-stroke.org

Abbreviation

Korean J Stroke

Vernacular Journal Title

대한뇌졸중학회지

ISSN

1229-4101

EISSN

Start Year

1999

Description

Print Edition ISSN: 2287-6391 Web Edition ISSN: 2287-6http://wprim.whocc.org.cn/wss//journal/journal_addedit.jsp?trandom=0.5641150675063307&JournalId=4219&ChannelId=0#405 The Journal of Stroke (JoS) is an official journal of the Korean Stroke Society and the abbreviated title is J Stroke. It had been launched in 1999 for Korean version and was renewed in 2013 for international version. It is published 3 times a year on the last day of January, May, and September. JOS will provide stroke clinicians and researchers with peer-reviewed articles on clinical and basic investigation of cerebral circulation and associated diseases to enhance patient management, education, clinical or experimental research, and professionalism. The journal will consider submissions in areas including, but not limited to, the following: pathophysiology, risk factors, symptomatology, imaging, treatment, and rehabilitation of stroke. We have a particular interest in strokes in Asian populations as they have features distinct from strokes in the other part of the world. Clinical researches on intracranial atherosclerosis, small vessel diseases, or hemorrhagic strokes, and relevant basic researches are welcome, as are issues in epidemiology, public education, and clinical practice guidelines in Asian countries.
Korean Journal of Stroke:
1999 to Present
ISSN: 1229-4101