The Malaysian Journal of Pathology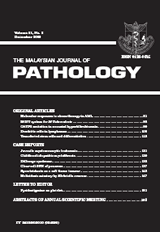 Publishing Place/Institue

Malaysia

Publisher

College of Pathologists, Academy of Medicine Malaysia

ElectronicLinks

http://mjpath.org.my/

Editor-in-chief

Prof. Dr. Looi Lai Meng

E-mail

editor@mjpath.org.my

Abbreviation

Malays J Pathol

Vernacular Journal Title

ISSN

0126-8635

EISSN

Start Year

Since 1978

Description

The Malaysian Journal of Pathology is listed in Index Medicus and Scopus, and can be accessed through the Medline online database. All publications are peer-reviewed, bi-annual scientific journal presenting the results of study and research in Pathology, especially those that have particular relevance to human disease occurring in Malaysia and other countries in this region. The term PATHOLOGY will be interpreted in its broadest sense to include Chemical Pathology, Cytology, Experimental Pathology, Forensic Pathology, Haematology, Histopathology, Immunology, Medical Microbiology and Parasitology. The Journal aims to bring under one cover publications of regional interest embracing the various sub-specialities of Pathology.
The Malaysian Journal of Pathology:
Since 1978 to Present
ISSN: 0126-8635