Hanyang Medical Reviews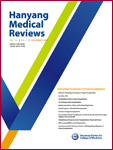 Country

Republic of Korea

Publisher

Hanyang University College of Medicine

ElectronicLinks

http://synapse.koreamed.org/LinkX.php?code=0130HMR

Editor-in-chief

Seung Hwan Lee

E-mail

shleemd@hanyang.ac.kr

Abbreviation

Hanyang Med Rev

Vernacular Journal Title

한양의대학술지

ISSN

1738-429X

EISSN

2234-4446

Start Year

1981

Description

Hanyang Medical Reviews (Hanyang Med Rev) is a peer-reviewed open access journal of medicine, published by Hanyang University College of Medicine. Initially launched as Hanyang Journal of Medicine (ISSN 0254-5042) in 1981 covering original articles, review articles and case reports, it was reborn as Hanyang Med Rev (ISSN 1738-429X) in 2005. Hanyang Med Rev aims at publishing review articles from different disciplines of medical sciences. Hanyang Med Rev is published quarterly and issuing dates are the 25th of February, May, August, and November. Only invited review articles on carefully selected subjects are permitted after being reviewed by the leading experts in the respective fields. Hanyang Med Rev welcomes suggestions on the topics to be discussed across the whole range of biomedical research.
Hanyang Medical Reviews:
1981 to Present
ISSN: 1738-429X; EISSN: 2234-4446